Succession Planning Secures the Future of Your Business
At BlueRock Wealth Management, we know your business is important to you and running a successful business is hard work.  Most business owners are concentrating on the day-to-day operation of their business and find it difficult to to find the time for longer-term projects, such as planning for a proper succession.  We can help you with effective solutions and help guide your plan for management and ownership succession.
Our advisors are dedicated to making suggestions that will assist you by addressing the strategies and tools from which you may select to implement your succession plan.  Handing your business over to someone else is a complicated, emotional and time-consuming process.  Let us help you address your questions, concerns and ensure long-term success of your business. Let's start planning now.
Forge a Sustainable Business Legacy
You've worked hard to build a business. But how do you ensure your legacy will continue to prosper long after you leave it behind?
Leadership coach and management consultant Catherine Daw specializes in working with entrepreneurs and executives to build successful, sustainable change in themselves, their successors and their businesses.
As a third-party partner of BlueRock, Catherine offers structured, systematic practices you can use to transform your professional and organizational vision into reality.
Coaching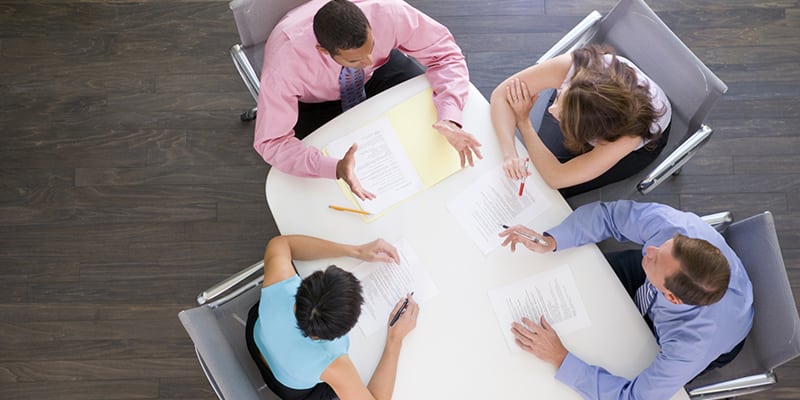 Through a respectful, trust-based working alliance between coach and client, Catherine will help you and any potential successors become the leaders your business needs, developing their capabilities with rapid results. Her proven coaching methodology enables:
Self-discovery, enhanced awareness, and new approaches
Opportunities for independent feedback
Trusted relationships and open communication
Confidence in your own leadership and the next generation of leaders
A strengthened ability to influence and inspire others
A more creative, collaborative and accountable leadership style and culture
Consulting
How do you make your organization work better, in order to thrive in a dynamic, ever-changing world? Catherine provides business leaders with simple, effective processes that establish deliberate strategies to get you where you need to go. Catherine's approach features four core elements:
Strategy — Simplified and effective strategies that provide direction, choices and energy to propel a business forward.
Executing Strategy — Break through organizational resistance to change, with a roadmap and disciplined leadership technique and clear plans to make it happen.
Making Change Work — Discover the practical and effective methods that will help you create the culture required to live through the cycle(s) of change.
Leading Teams — Learn how to lay the foundation of trust, communications, commitment and accountability for healthy teams that produce results.
Get to Know Catherine Daw
Catherine grounds her recommendations in extensive experience helping executives and organizations in the public, private and nonprofit sectors. As a co-founder of management consulting firm SPM Group Ltd., Catherine led the company's growth for 22 years until an acquisition in 2014. Catherine holds an MBA from the Schulich School of Business at York University and both the Certified Management Consultant (CMC) and Associate Certified Coach (ACC) professional designations. She sits on multiple boards in the nonprofit sector and was selected as a top Canadian woman entrepreneur by PROFIT magazine for four consecutive years.
FAQs About the Succession Planning Process
You have worked hard to make your business what it is today. After you pass away or leave your business, you want to make sure your operation continues to thrive, and one of the ways you can do this is through careful succession planning. Below, we have answered some common questions we receive about the business succession planning process.
How do you ensure your business legacy?
Begin by letting our leadership coach and management consultant help you build sustainable, successful change in yourself, your successors, and your operation. Identify your vision and then work with us to make it become a reality.
What will you do to develop future business leaders?
We establish a trust-based, respectful working alliance between client and coach. This approach may involve developing your successors' capabilities and helping you become the leader your business needs.
What does the consulting process look like?
Make your organization work better with our four-step consulting process. These key steps include strategy, strategy execution, making change work, and laying a foundation of trust, accountability, and commitment through building teams.
When is the right time to start succession planning?
If you sense change in your business' future, succession planning should quickly become a priority. Even if you do not anticipate leaving your business, succession planning can help you create a culture that will help your business thrive during periods of change.
How do I set up a consultation?
We look forward to helping your business now and into the future. Set up a business succession consultation by contacting us today.
---
At BlueRock Wealth Management, we offer succession planning services in the Southern Georgian Bay Region, including Collingwood, Creemore, Thornbury, and Wasaga Beach. We also serve most of South and Central Ontario, including Toronto, Oakville, Burlington, Kitchener, Waterloo, Guelph, Caledon, Barrie, Orangeville, Newmarket, Saugeen Shores, and Owen Sound.