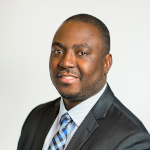 Bold David Kéré, PFP, CFDS, CKA
FINANCIAL PLANNING CONSULTANT
Bold Kéré specializes in retirement, tax, and estate planning. He likes to keep people and their values at the core of his comprehensive approach to planning.
For him, it's about helping people live their best lives possible now and in the future with the money and resources they have. He won a Canada-wide financial planning award for doing just that.
Bold loves to empower people through financial education, as he simplifies and explains complex notions and situations with a simple and clear language.
When he is not doing numbers, he likes to learn about marketing and spend quality time with family and friends, playing soccer, having nice barbecues in the summer, and practicing cross-country skiing in the winter.